Hey look, it's Tuesday. Chuck is talking about the benefits and downsides of conventions for authors.
| | |
| --- | --- |
| | |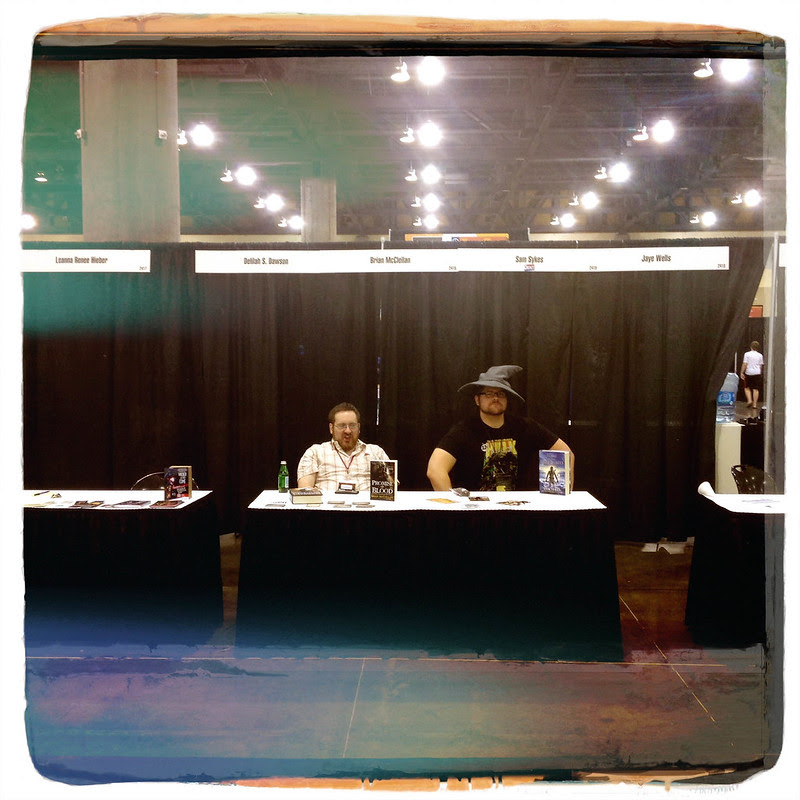 SEE WHAT I DID THERE?
PROS CONS OF PRO CONS.
I tickle myself inappropriately.
Anyway, so, last week Authorbeing Marko Kloos wrote a post about the cost of his trip to Confusion, an SFF con in Michigan. His estimation of cost: $1880, though he notes with more frugal spending that cost could've easily been knocked down to under a thousand bucks.
Still, a thousand bucks is no small amount of cash. With that you could pay rent, make a car payment, buy a month's worth of groceries, or finally afford a long relaxing weekend with your own personal SEX PONY. Is that an actual pony with whom you make love? Or a person dressed like a pony who just hangs around being sexy? I have no idea! I don't want to know your peccadillos! I'm not here to judge!
The question, particularly for genre writers, becomes:
Is it worth it?
Is it worth going to a convention or festival not just as a fan but as a professional writer or a writer seeking professional connections? Are some conventions better than others? After all, a genre convention (SFF or mystery or YA) will be different from a more general writer convention (conference) and those will be different yet from a comic-con or book festival.
Do you need to go to one?
Let's just get the tl;dr out of the way right now:
Nope, you don't.
THERE I DID YOUR WORK FOR YOU NOW GO HOME.
Wait! I was kidding, don't go away. Unless you're going away to get me some French fries. You're not? Then fine, plunk your BOTTOM REGION down on that CHAIR-SHAPED ENTITY and listen because I'm not done talking, goddamnit. No, you don't need to go to any convention…
But you may still find value there. You are not required to go — meaning, at no point is your professional career hinging entirely on WHO YOU SCHMOOZED AT THE BAR THAT NIGHT AT WANGLE-DANGLECON. Your writing career hinges on writing good books that an editor likes and a publisher thinks they can sell and that readers want to read and also, there's a hefty dumpster-load of luck at play, too.
Though, let's talk a little bit about that luck factor, shall we? If we view luck through the lens of an RPG, your Luck Stat can (by most rules) be used to boost your chances at, say, finding more treasure or managing a critical hit while attacking a VILE DISPLACER GIRAFFE. If we view life as one big ongoing RPG, then your Luck Stat is there to boost your chances in various life arenas from the romantic to the financial to the professional. Very few things rely entirely on luck — but many things can be influenced by luck. Writing and publishing included.
You can not create luck, really. But you can maximize it.
Bringing this full circle, going to a convention or conference or festival can help maximize your luck in this space. Meaning, maybe you cross paths with an agent or editor who will remember you later when your book crosses their desk. Or maybe you'll meet another author who is likelier to take a look at your book to blurb it when the time comes because they actually remember your face. Or maybe you attend a panel where four authors say a bunch of smart and dumb stuff that combines like IDEA VOLTRON in your head to form your next book. Again, none of this is essential, but a lot of it has the chance to give you a boost in a variety of ways.
That's the upfront tl;dr —
No, conventions/conferences/festivals are explicitly not "required."
But they can be worth it.
Let's now hash out the actual pros and cons, yeah?
(Disclaimer: this post is just my opinion, and does not comprise anything resembling fact.)
Read more by clicking on the title.