This annoys me, it really does. There are so many things wrong with Australia's treatment of asylum seekers right now. A few examples (and a few 'counter-measures') are listed below in the article. We should be saying #welcome – instead, asylum seekers and refugees are condemned to remain in concentration camps as the government attempts to break their spirits….or alternatively, they anxiously wait in the community on bridging visas and the like, with no assurance of safety and no hope for the future – even children (see this article from The Age today). Actual acceptance of their claim for asylum seems rare and must be fought for. This should NOT be the case. It's a sorry state of affairs indeed.
There remains the option for third party countries – e.g. New Zealand, Canada or European countries – to take in asylum-seekers illegally imprisoned on Rape Island (Nauru) or Murder Island (Manus), though the current Australian Government refuses to consider such an option as its policy is about exacting punitive measures on asylum-seekers as deterrence. This policy, however, could spectacularly backfire given that Australian lawyers are now signalling that asylum-seekers will be able to lodge claims for millions of dollars in damages against the Australian Government for both unlawful detention and for abuse sustained…
Between 2001 and 2005 New Zealand took in 401 asylum seekers who had been detained by the Australian Government. Also, 208 people rescued by the Norwegian MV Tampa were taken in by New Zealand. Sweden, Canada, Denmark and Norway took in asylum-seekers too and it's likely that if formally approached these countries or other European countries that have a track record of taking in refugees in their hundreds of thousands – e.g. Germany and Austria – or smaller numbers – e.g. Iceland – could offer to help again. But offers of help are no good if the Australian Government refuses to entertain them from the outset, simply because its objective is to punish (the asylum-seekers).
Meanwhile the Australian Government could face hundreds of law suits or a class action by asylum-seekers, seeking punitive damages for illegal detention, sustained abuse and negligence. In July the Department of Immigration & Border Protection (DIBP) finally confirmed what lawyers such as Julian Burnside and Greg Barns had been saying all along: that Australia has ultimate legal responsibility for what is happening in the offshore detention facilities. At a Senate inquiry a DIBP official stated clearly that "the ultimate accountability for the operation of the centres sits with the Australian Border Force"; consequently, the Senate inquiry declared that Australia – not Nauru or PNG – is legally responsible for the abuses in Nauru and Manus detention centres, because Australia has "effective control" of those centres.
Litigation by asylum-seekers could also include, of course, entities contracted to run these detention facilties – i.e. Transfield Services (renamed Broadspectrum) and sub-contractors Wilson Security (with consequences for their respective shareholders).
This is a ticking time-bomb.
Recently there has been the well-publicised cases of two Somalian women on Nauru, in regard to rape. With one of these cases – that of the Somalian woman, 'Abyan' – an article by Greg Barns summed up well what happened…
"This is a young woman who has suffered trauma – she has been accepted as a refugee from war-torn Somalia. She is pregnant in the most awful of circumstances, and English is not her first language. To simply give her access to nursing staff and a GP is well below what a woman in her position is entitled to as a patient. But it gets worse. Abyan is sent back to Nauru, still pregnant, and finds a journalist from The Australian newspaper wanting to interview her. Surely the Commonwealth would understand that to fail to protect Abyan from further mental health deterioration and exposure to the media is not just morally but legally wrong. The treatment of Abyan is symptomatic of the Australian government's cavalier attitude to its legal duty of care to asylum seekers."
The Australian Government's former (?) propaganda specialist, Chris Kenny (see photo above) is the so-called journalist (Assistant Editor, The Australian) who was allowed to go to Nauru – the first Australian journalist to do so for 18 months. His 'interview' with 'Abyan' was clearly an attempt to discredit her. To do so was, of course, utterly reprehensible and his brief meeting with her not unexpectedly left her in tears.
Also this week the Australian Government confirmed that 80 children were subject to return to Nauru after receiving medical treatment in Australia. This comes only a week after a statement was issued by doctors at the Royal Children's Hospital in Melbourne (endorsed by the Australian Medical Association) that they will refuse to hand over any child to Border Force guards if that child is to be transported to an offshore facility.
It was also revealed this week that the Save the Children offices on Nauru wereraided a second time by Nauruan police, on the orders of the detention centres's commandant, Berilyn Jeremiah, who attempted to justify the raids by referring to Nauruan laws that are clearly not appropriate – i.e. the raids were illegal. (One wonders how the Nauruan Government's PR agency, Mercer PR, will spin that story, or the story about how a man convicted of rape was allowed to join the Nauruan police reserves!)
The Border Force Act, which was introduced in July in Australia, criminalises the disclosure of information by staff who work in immigration detention centres. Indeed, the Guardian revealed that over the last 12 months journalists who had reported on the federal government's asylum-seeker policies had been repeatedly referred to the police in attempts to uncover confidential sources and whistleblowers.
The new data retention law will also make it easier for the authorities to identify whistleblowers. However, there are precautions that whistleblowers can take to avoid detection (even if the authorities raid media offices too). For example, the Guardian uses SecureDrop, a facility that a whistleblower can use to safely pass on information without his/her identity being detected (and providing certain precautions are also taken) as well as an encrypted email service. (See images below from the Guardian's website and click here for instructions on what else to do.)
Alternatively, whistleblowers can always try The Intercept (see image below).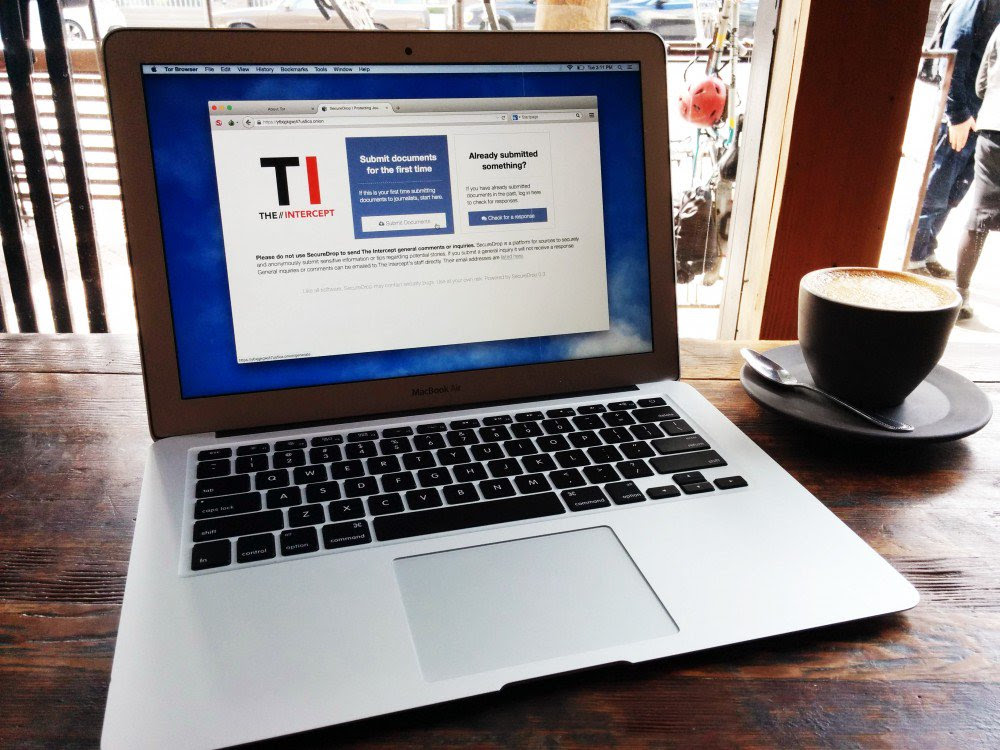 See also: https://au.news.yahoo.com/thewest/a/29886551/asylum-seekers-still-need-help/
TO READ more articles from UNDERCOVERINFO click on =  https://undercoverinfo.wordpress.com/